Meet the Team
Qualified experts ready to assist
Austin
– Operations Coordinator
Austin is tasked with answering the phones, emails, and assisting walk-in clients in our Charlottesville office. Even with averaging over 100 incoming phone calls a day, he still has time to assist clients with issues, manage our techs' schedules, & accept incoming work orders. Don't be fooled-Austin is much more than a receptionist, and can help with some technical issue without having to transfer you at all.
Brian
– Software Technician
Starting back in high school, Brian has been developing a wide breadth of IT knowledge, from SQL, to AWS, to multiple programming languages. From his lessons as well as personal experience, Brian can solve most problems that arise, but really shines when it comes security, SQL and general software troubleshooting. With the increasing complexity of modern software, he can help get them sorted out.
Charles
– Systems and Software Technician
Charles fills a productive role at Top Notch Computers, seamlessly working between software and hardware alike. He has a unique prospective on approaching problems, as outside of Top Notch, Charles works with the local Fire Department. From this, he's honed his quick thinking and problem solving skills to resolve most problems technology can throw at him. With his experience from both on and off the job, Charles is an invaluable asset for assisting commercial and residential clients alike.
Christian
– Principal & Founder
When Christian was 19 years old, he started a part-time computer business out of his basement apartment. Almost 20 years later, he's still working overtime leading one of the most talented IT groups in the region. Christian has been featured on CBS, NBC, and FOX as a recognized authority in IT administration and cybersecurity. A product of working-class Northwest Detroit, Christian knows firsthand what it's like to live and work within a budget while still producing results.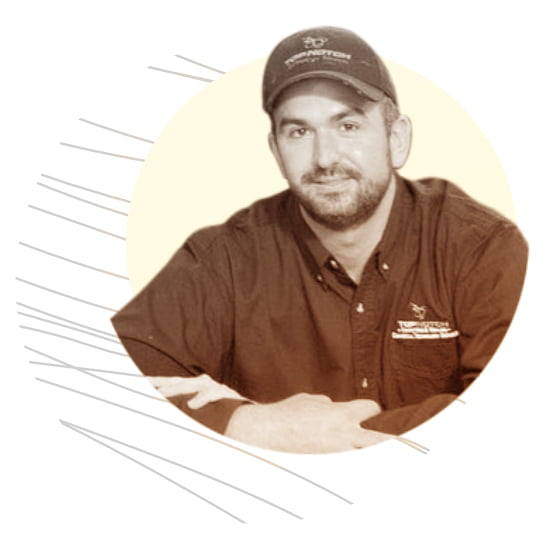 Chris
– Senior Support Engineer
Serving as a Senior Support Engineer Chris is well trained and knowledgeable in multiple areas including, but not limited to, Windows/Mac/Linux Systems, enterprise/consumer hardware and software, network management, structured wiring, Android/iPhone mobile devices, data recovery, and overall PC repair. Chris is a one-of-a-kind person who lives and breathes technology. Over the years he has transformed his hobby and passion for technology into a successful career.
Dale
– Repair & Remote Tech
Dale brings with him years of hardware & helpdesk support from his previous training & career working in the IT medical field. At Top Notch, he spends most days repairing computers, meeting with clients, and assisting end-users with desktop support issues. He also assembles more of our hand-built workstations & servers than any other tech. Broken computers, software issues, and viruses are all no match for this guy.
Emily
– Billing/Office Manager
A Virginia native, Emily runs the help desk at our Richmond office and handles overflow from our very busy Charlottesville office. Her experience with marketing, sales, & customer service helps us keep the lights on and customers coming back again and again. Emily holds a degree from Duke University, and has spent time in construction management and sales before finding her home among this quirky crew!
Fang
– Senior Support Engineer
Fang is known around the office as a hard-working guy with an eye for detail. He is constantly helps us evolve internal processes, as well as helping other technicians with technical issues they are struggling with. Always a hard worker, he doesn't stop until the job is done. Fang holds an A+ certification, and has broadened his knowledge through previous job experience, which he has brought with him to Top Notch!
Garnett
– Senior Engineer
A very qualified & accomplished hardware and network specialist, Garnett is often able to troubleshoot problems and implement solutions without ever leaving the office. For the hands-on jobs, Garnett travels to customer's sites to assess, troubleshoot, install, repair, upgrade and more. Complex problems are welcome challenges for Garnett-although one of our youngest team members, he is an asset to the staff when it comes to elevated troubleshooting matters. Garnett signed on with Top Notch immediately after obtaining his bachelor's degree from VCU and has been with us ever since.
Landon
– Senior Engineer
Years ago, Landon was the star offensive lineman for the UVA Cavaliers. Today, he is a well-rounded systems and network tech with a focus on cybersecurity and compliance. Network support, complex email systems, virtual environments, and cloud infrastructures are all within a day's work. After obtaining his degree from the University of Virginia, Landon spent a few years in corporate and government IT. With him comes a welcome perspective towards client relationships as we continue to grow and expand into new markets.
Marques
– Systems & Software Specialist
Marques filled a void by simply being able to accomplish a lot in a short amount of time. His experience stands out when it comes to the most cutting-edge technologies: cloud and virtualized environments are particular interests of his. His computer troubleshooting and people skills are also spot-on. Marques is a welcome resource to clients and staff alike.
Preston
– Operations Coordinator
Being the face of our Richmond office, Preston does his best to make sure that people around the Virginia capital get the IT service they need. With his customer service background, he's the kind of person you would want to talk to when things break. Not only does he assist clients in Richmond, but he also assists with calls, emails and scheduling for all three locations, making him an invaluable force multiplier.
Samantha
– Corporate & Medical Services
Samantha started out at Top Notch at the front desk after obtaining her degree from Virginia Tech. Her love for technology and knack for fixing things has now brought her to pursue a more serious career working with machines and assisting clients all day long. A very well-rounded tech, Samantha is great at everything from repairs to medical imaging devices to commercial email setups. She's also great at training clients on how to use their equipment.
Shawn
– Manager of Internal Operations
An employee of AOL for 11 years focusing on Quality Assurance and Connectivity, he wasn't just there to witness the birth of The Information Age. He was among the multitude of IT professionals directly responsible for its development. The last 8 years has allowed Shawn to leave behind the days of spending all day in a corporate cubicle or meeting room to take an even more hands-on and proactive approach to technology by directly supporting the people that require technology to do their day-to-day jobs and to run their businesses. With key strengths in analytical thinking and strategical planning, Shawn is often a critical asset in in-depth investigations or complex implementations; being one of the company's experts in e-mail migrations and VOIP phone systems.
Thomas
– Senior Engineer
A valued asset to the team, Thomas has a broad and comprehensive knowledge of all our clients. Before his career at Top Notch, Thomas had worked in both academic and retail tech support, as well as a self-employed IT contractor. With his experience comes a unique perspective towards customer service-clients really love working with him. Thomas also holds a degree in InfoSys, which means he really knows his way around modern networks.