Computer Service Repair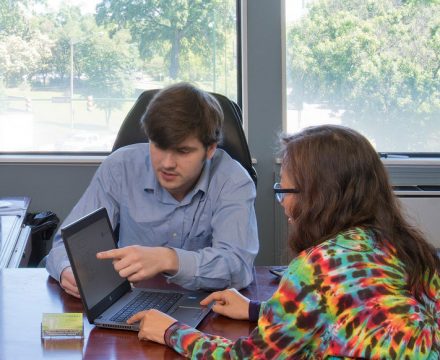 What Does Computer Support Means?
Top Notch is an IT company that also includes a computer repair service. Meaning that we can solve any problem and cover any need that you may have with your computers. So, regardless of what computer-related difficulties you may have, we are here to help you. The primary services you can expect from us are:
Networking & Printing Solutions
Upgrades & Routine Maintenance
Emergency Response & Disaster Recovery
Computer Literacy Tutoring & Consulting
Do You Need the Help of a Computer Support Specialist?
If you are not a computer support specialist yourself, the best way to deal with any computer problem is to go to a reliable computer service. Keep in mind that computers are very complex and very sensitive. Attempting repairs by yourself can cause more damage than the initial problem. To avoid making mistakes, it's much better to let a specialist solve your problems. And there are several types of issues you could have, all of which Top Notch can fix for you:
One of the Hardware Components Stopped Working
Pcs are made from many different components. And if one of them stops working, the effects will be evident. Of course, sometimes the symptoms are similar, and you may not be able to know what components are not working. By coming to Top Notch, our experts will be able to make the proper diagnosis and fix the problem.
You Have Software Problems that Must Be Solved
It does not matter if you need a new O.S., you want to install some specific software, or you need to deal with viruses. A Top Notch Computers specialist will surely be able to take care of the task. Our friendly team has all the necessary skills to solve any possible problems or needs that you may have.
Interested in a premium, comprehensive IT experience?
Contact us today to set up an appointment to talk.
Here's a small list of benefits that you can expect:
Save a lot of time with the speed of our specialists' problem-solving skills
You can be sure that all our prices are affordable and you will be more than satisfied
An extensive array of on-site and off-site services that may help you even more
I wish I had known about Top Notch years ago. I have probably spent over $1,000 that didn't need to be spent and junked 2-3 computers that didn't need to be junked.
Tammy Baines
Top Notch – Exceptional Computer Repair Service
---
The professional team that you will find at Top Notch is the foundation for our company's deserved exceptional reputation. They are not only the best option when you need to deal with your PC. But they are also masters of covering a business's needs.
Overall, several more reasons contribute to the creation of such an exceptional computer repair service:
Communication
The members of our team are not only experts in their fields. They are also excellent communicators. It is straightforward to have a proper conversation about computers, and they will make sure you fully understand what they are speaking about.
Unlike many other companies, Top Notch does not put their profits above the satisfaction of its clients. And part of that is the affordable price you will have to pay for their services. You won't have the experience of being scared when you see the bill.
Quality Services
The specialists in our team are not only very skilled. They are also very professional. So, you can be sure that the quality of our services will always be Top Notch.
24/7 Support
What can we say more? You can contact us at any moment, and we will be there for you.
One of the most common recommendations we make to our clients is to come or call us for regular computer support maintenance. It is a better alternative than reaching for a quick fix, repairs or buying new computers.
Our service area covers two thirds of all Virginians and Marylanders.
Expect professional, personalized service from our computer repair company that the big guys just can't match. On-site services and house calls available.
How to Properly Handle Computer Service?
---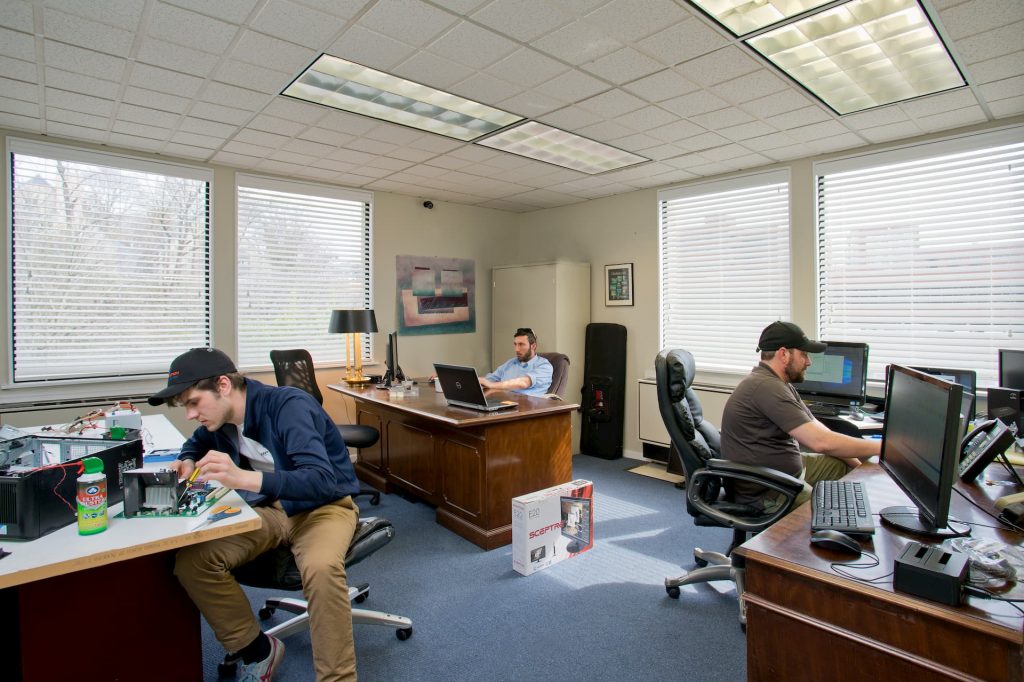 Many of our services are comprised of 3 easy-to-understand steps:
Before we do anything else, our team must analyze the situation. For example, if your PC does not work anymore, our experts must find the cause.
Not every solution is as easy as replacing a component in your PC. Some of the problems may have multiple solutions. And each one of them has some pros and cons. So, our team will decide together with your which option is the best one for you.
The most common follow-up procedure is the regular maintenance that we encourage our clients to use when talking about computer-related problems. But in some cases, follow-up services may be needed to improve the performance of your systems.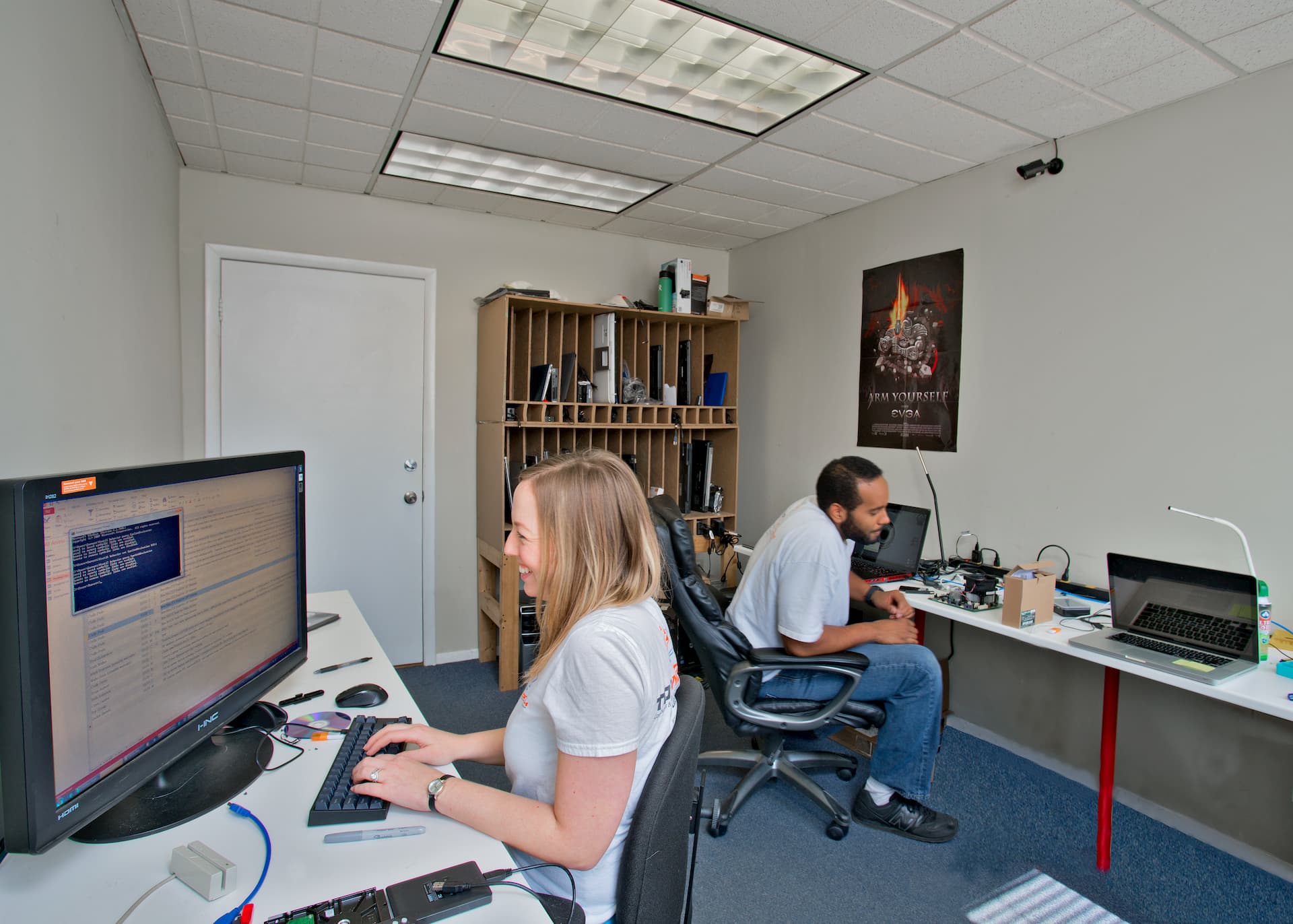 Complete Computer IT Support
Regardless of your PC problems, you can be sure that our computer support team has the right solution:
Computer Diagnostics & Repairs
Do you have problems with your PC? Then our team can find exactly what's wrong and solve it for you.
New, Used, Refurbished, & Custom PCs
Do you want to replace your current computer? We have both standard options, and we can even create a custom PC for you.
Upgrades & Routine Maintenance
The best way to increase the lifespan of your computers is to come for quick fix maintenance. And we can also help you upgrade your PC based on your preferences.
Computer Literacy Tutoring & Consulting
Do you want to master the use of your PC? No problem, Top Notch provides tutoring and consulting to make you a master.
Networking & Printing Solutions
Do you work from home? Or, you may need networking or printing solutions for your personal need? Call us, and we can even create custom solutions for you.
Virus & Spyware Removal
Everyone hates to encounter problems with viruses or spyware. And our computer IT support team is here to help you get rid of such issues.
Emergency Response & Disaster Recovery
We know those moments when a computer problem appears. And it would help if you used the computer for remote work or other essential causes. That's why we provide on-site services 24/7.
Data Recovery & Transfer
Do you need to recover data from a broken PC? Or do you want to transfer data between 2 computers? Our friendly team can easily cover your needs.