What Does Network Support Mean?
Our network services can support you in connecting all of your employees to a network and streamlining their work as much as possible. However, there are various options within the network support umbrella that you should be aware of. Each of them has a distinct objective. They can, however, assist you in developing a larger picture of your company's future.
Network planning is the first step of the process
The implementation of the network is the second part
Preparing the network security measures is a mandatory step
Regular maintenance of the network
When to Call for Computer Network Support Specialists
There are numerous circumstances in which you should contact network specialists. The most frequent ones are listed below:
Let Specialists Create Your Network and Protection
The first step in the process will be to contact an IT support provider to evaluate your organization and create a customized plan for your network. Following that, the specialists will set up the network and arrange the appropriate security measures for you.
Computer Network Support Specialists Can Also Manage Your Network
You can also choose our company's management solutions. If you need to make modifications to the network, fix some sections, or require maintenance services, you can delegate the task to us! Let the experts deal with it.
After Your Business Grows, You Will Need to Expand Your Network
The network's complexity grows in tandem with the expansion of a company. In many circumstances, you'll need to call in specialists to help you extend it and streamline all of the operations as much as feasible. That is where we come in!
Benefits You Can Expect from Using the Solutions of a Professional Engineer
---
There are many reasons why it is a better idea to let specialists deal with any network-related tasks. But the most common ones are:
You want to finish all the network-related tasks as fast as possible
The expertise of experts will maximize its effectiveness and efficiency
Customization and scalability are essential and easy to achieve for specialists
The security and management of the network will be easier to deal with
By now, it should be clear whether your company requires a network solution and how critical Below, you will discover why Top Notch is the greatest selection for you. What distinguishes Top Notch as the greatest alternative on the market? Well, there are various reasons to think about:
Our organization places a high value on the hiring procedure. Our entire technician team possesses all of the skills required to deliver our company's solutions flawlessly. Even once the employment process is complete, we continue to learn and understand new technologies as they emerge in order to deliver the best possible solutions to our clients.
Professionalism
At Top Notch, we value each and every one of our customers. Our team recognizes the significance of a serious demeanor and the function of professionalism in the corporate world. The satisfaction of our clients demonstrates this to a high degree. Satisfaction is guaranteed when a firm like ours focuses on our clients' demands and is capable of generating positive outcomes for our clients.
Prices are not exorbitant in comparison to the quality of our services. We believe in reasonable pricing. Instead of maximizing revenues, we strive to please our customers and offer the finest results possible. So, you won't have to be concerned about bills when working with us.
24/7 Management
You can contact us 24/7. Although we have an appointment system in place, we try to help our clients as fast as possible adjusting based on their level of emergency. If you find yourself needing our services often, you can also try our managed plans. One of the benefits of these plans is same-day service at no extra cost.
With over 20 years in the industry, we are clear about our clients' computer needs. And we know the best and fastest ways to plan and implement a solution for our clients.
Interested in a premium, comprehensive IT experience?
Contact us today to set up an appointment to talk.
What Are the Stages for Proper Network Support?
---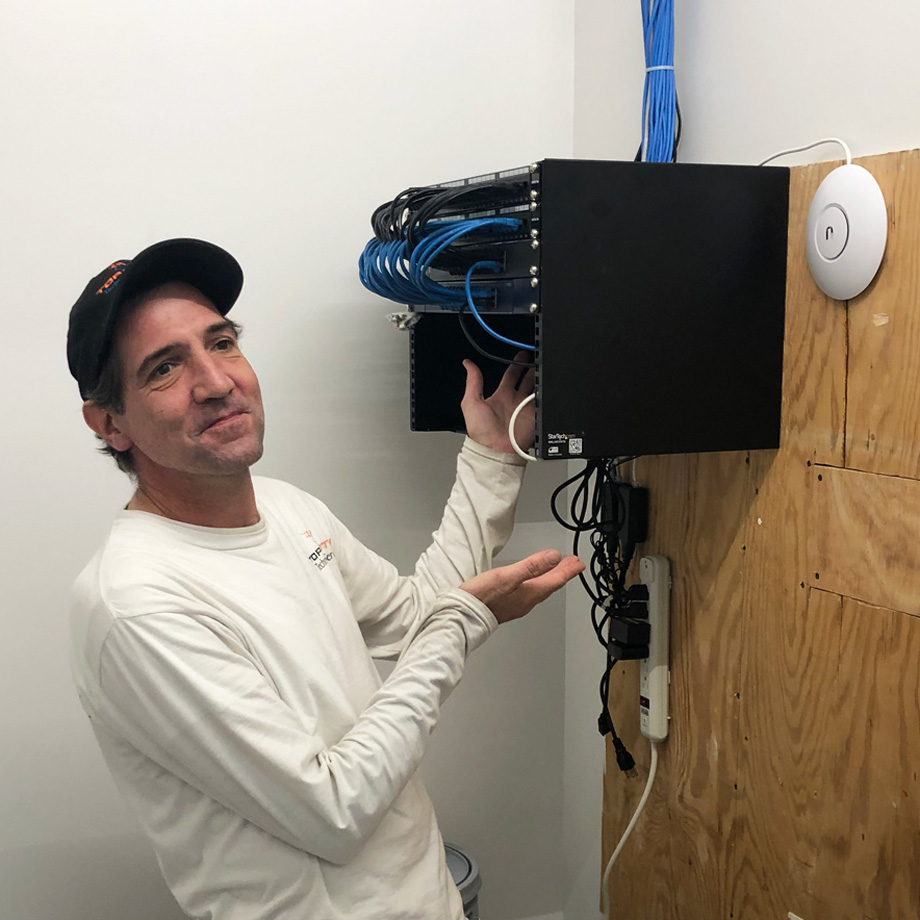 There are three main parts that you need to know about while contacting us for network solutions support. The first one is the analysis process. We will send a technician or a team to analyze your business's state and gather all the information they need for the next step. We call these "site surveys" in which we can take a first-hand look at your system to properly determine your requirements.
The second step of the process is to create a custom solution. As you know, every business is different. Meaning, each solution will be unique to your needs. Doing this will allow us to help our clients produce the best results possible with the answers we provide.
Your custom solution needs to be planned based on the information gained from the first step. Afterward, our team will implement it and do some tests. After you check the results and are satisfied, the only task remaining is the third part.
Lastly, after the implementation, the follow-up phase begins. In this part, you can contact us and tell us if you need any changes made or when repairs are required. After your business grows, you will also need to contact us to help you expand the network.
Interested in a premium, comprehensive IT experience?
Contact us today to set up an appointment to talk.
Comprehensive Business IT Solutions
---
Besides network solutions, Top Notch provides all other solutions your business may need:
Staff Augmentation for when you have workforce problems
Management Software to increase your business efficiency
Cyber Security keeps all your company's data safe
Web-Based Marketing Solutions to complement your marketing efforts
VPN & Remote Access for more flexibility
VoIP Phone Systems for sales and internal calls
Email, Hosting, & DNS Management customized for your needs
Backup & Replication to prevent losses in case of disasters
Disaster Recovery & Emergency Solutions to recover your business as fast as possible
General Tech Consulting to help you understand the needs of your business
Cloud Computing to reduce the physical resources that your business needs